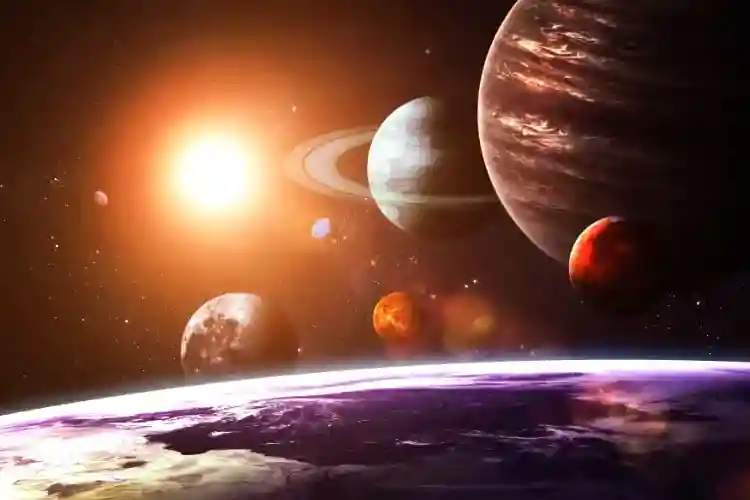 We are just days away from entering March 2021, and guess what we are going to observe in the upcoming month? – The major astrological events! That's true – the stargazers are ready to witness the movement of each planet like us. Yes, because these planetary transits could have a small shift in their position, but it may have a big impact on the native's life. Hence, it is necessary for us to sneak through the stellar system with the help of astrology so that we could have an idea of planetary positions and their effects in March 2021.
Planetary Movements In March 2021
In the month of March, there will be major planetary changes. Jupiter and Saturn will be transiting in Capricorn, Rahu will be passing through Taurus and Ketu will be in the Scorpio sign throughout March. Also, in mid-March, planet Venus will transit in Pisces, while Mercury will move to Aquarius. Later, the Sun will also join Venus in Pisces. Alright followers, now it's time to check out all these planetary transit in detail.
Astrological Events In March 2021
Here is the list of astrological events in March with detailed insights.
Astrology Events in March 2021:
Feb 21 to March 11, 2021 – Transition of Jupiter, Mercury, and Saturn In Capricorn (Triple Transit)
Throughout the March – Jupiter Transit In Capricorn
Throughout the March – Saturn Transit In Capricorn
Throughout the March – Rahu Transit in Taurus and Ketu Transit in Scorpio
17th March 2021 – Venus Transit In Pisces
11th March 2021 – Mercury Transit in Aquarius
14th March 2021 – Sun Transit In Pisces
Triple Conjunction Of Jupiter, Mercury, and Saturn In Capricorn – (21st Feb to 11th March 2021)
From the last week of February 2021, Jupiter, Mercury, and Saturn will be under the same roof. Hmm, in the 10th sign of the zodiac circle, Capricorn. This association of planets is likely to bring peace, intelligence and wealth in the native's life. Singles are likely to find a loyal and honest partner during this phase as luck is ready to favour you. The 3-week-long transition may bring a favorable time for the natives of Aries, Taurus, Leo, Scorpio, and Pisces. Know the Effects of Triple Transit in Capricorn on your zodiac sign.

Jupiter Transit In Capricorn
The most auspicious planet Jupiter has already occupied the house of Capricorn since November 2020, and throughout the month of March, it will continue to bless us from the same house. Soon, Jupiter may realize discomfort inside Capricorn along with Saturn because of its hefty size and will leave the sign in the first week of April. Thereafter, the biggie will be entering Aquarius on the 6th of April 2021. Find out the effects of Jupiter Transit in Aquarius 2021.
Saturn Transit In Capricorn
New house for Saturn in 2021? No way!!! Jupiter may have decided to part ways with Saturn in the house of Capricorn, but the taskmaster is enjoying all comforts in its house and is going nowhere. In March 2021, Saturn will be transiting in the Capricorn sign and will remain there only till April 2022. During its tenure, the host Saturn may have a couple of visitors in the same house and according to their conjunctions, it may have positive or negative effects on the individuals.
Get remedies to reduce the harmful effects of Saturn, Talk to Our Astrologers! @ Re. 1 / min
Rahu in Taurus and Ketu in Scorpio
The Moon's nodes, Rahu and Ketu will be transiting in Taurus and Scorpio respectively. Both the shadow planets have entered these signs from September 2020, and it will be there till next March 2022. Hang on, we have one more visitor in Taurus, the red-planet Mars is secretly entering the Taurus sign from February 22, 2021 till mid-April. As a result, we are also going to observe Rahu-Mars double transit in Taurus. However, the two shadow planets, occupying Taurus and Scorpio signs may give you long-lasting outcomes.
Venus Transit In Pisces
Seriously? The planet of Love, Venus too is making a move in the new house. That's right, Venus will be leaving the Aquarius sign on 17th March 2021 to enter the Pisces sign. Venus will be in Pisces till 10th April 2021, and it may allow the natives to enjoy materialistic pleasures. The significator of romance, comforts, and luxurious life, Venus may also help Singles find their desired life partner. But, it may have adverse effects for those who are already married.
Is Venus associated with bad planets hampering love and relationship? Reveal from your Free Personalised Janampatri.
Mercury Transit in Aquarius
The planet Mercury is transiting to Aquarius from 11th March 2021 to 31st March 2021. Mercury will be supervising your communication skills, memories, and it may sharpen your analytical mind too. During the transition of Mercury, natives may fall victim to wrong information or some of you might get unexpected support in your works. Those who have favourably-placed Mercury in their birth chart can expect positive results in life. Ah-ha!
Sun Transit In Pisces
OMG! The Sun is on the way…to Pisces. Yaas, the Sun will enter the Pisces sign on March 14, 2021, before Venus makes its appearance on 17th March 2021. The significator of energy, the Sun is currently in Aquarius, and it will soon reunite with Venus in Pisces. During this transit, Sun may fill your mind with positivity and confidence while Venus may add romance to your dry love life. However, if the Sun is unfavourably-placed, it may bring adverse effects on your life.
Know if Sun is favourably-placed or not, access your Personalised Free Janampatri.
Full Moon March 28, 2021
It's showtime!!! This celestial event will be seen on Sunday night of 28th March 2021. The SuperMoon will be visible in the sky with a naked eye. It may help you to strike balance between personal and professional life. You may rebuild your mutual relations with your partner and may enhance your mental strength too. So, save the date and get ready with your spyglass to observe the special Moon of March 2021.

So, these are the 2021 astrological transits that are going to occur in the month of March. With this, hope you have a complete view of the March 2021 planetary transits. In case of any help, you can always rely on us by simply tapping your phone,
Speak or Chat with MyPandit Astrologers
on
MyPandit App @ Rs 1/min
and seek freedom from all your worries. We wish our fellow readers the happiest and pleasant time in March 2021.