8 of Cups Meaning, Love, Career, Health, Upright & Reversed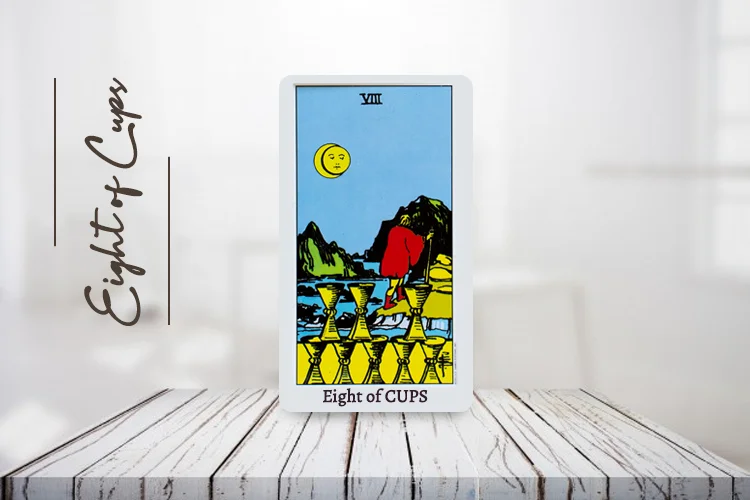 Did you know? If you unfold tarot cards & 8 of Cups Tarot occurs, then you may have a habit of walking away from those places where you have not been served nicely. LOL, for those who are not able to understand, hold your horses. Will clear your doubts about '8 Of Cups Tarot Cards'. So, 3… 2… 1… let's get started…
---
8 of Cups Guide
8 of Cups Upright – Abandonment, letting go, travel
8 of Cups Reversed – Faking happiness, stagnant, hesitate to move on
Number – 8
Element – Water
Planet – Neptune
Astrological Sign – Pisces
Ask an Expert Astrologer for all the Answers.
---
Understanding Minor Arcana Tarot Cards
The most significant chunk of the Tarot deck, 56 of the 78 cards, comprise the Minor Arcana. 40 cards out of these fall exclusively under the Minor Arcana, while the other 16 also form a part of the Royal Arcana or Court Cards. If the Major Arcana can be said to convey the big picture, the Minor Arcana signifies the specifics in the life of a person. Not exactly but like different promos of a full movie. Don't grab its tickets, huh? After all, you are the only main actor in it.
Minor Arcana Tarot Cards divided into Four Parts:
The Suit of Swords signifies the realm of the mind and intellect, our decisions and insights.
The Suit of Cups has to do with the things of the heart, things we love and care about.
The Suit of Wands represents our power and life energy as applied to the situations and events we face in life.
And lastly, the Suit of Pentacles represents our labors and the rewards we gain from them.
Basically, four of them include everything to make your life full of tadka & masala (flavors, aspects).
---
8 of Cups Meaning
8 of Cups Tarot brings with it a period of evolution in relationships.
We feel that we have achieved emotional nirvana, and we seek greater fulfillment – either from our existing relationships or forming new relationships. Bogo Deal!
This card tells us to focus on all that we have learned and achieved in the past and foretells a blessed journey ahead.
We also need to be open to change and contemplate its role in the realization of our goals. Eat, sleep, learn & repeat!
---
8 of Cups Upright & Reversed
8 Of Cups Upright Meaning
It may signify walking away from people or circumstances in your life or abandoning your plans. Similar to those friends who cancel Goa plans at the last moment #JusticeForTrip. It can prove a disappointment, turning your back on, or exiting a bad situation. Lastly, 8 of Cups Tarot can mean feelings of isolation, introspection, self-analysis, and the search for the ultimate truth.
Reverse 8 Of Cups Tarot General Meaning
If we describe 8 of Cups Reversed in one word, then we would say 'stagnation'. When it appears, you are already in a bad situation and stuck in your mind. You may be so insecure about suture that you are not able to do anything. Deadlock. You're happy only with your mains. T&C apply*. Remember, you are not bad; it's just about the time that is not in talking terms with you as of now. It may also define returning home after a long period of travel or living in another country.
---
8 of Cups Love & Relationships Upright
If you are curious to know then we must tell you that the 8 of Cups Tarot is not a great omen in 8 of Cups Love & Relationships. It represents abandonment issues. If you are in a relationship, it means that your partner is walking away from it. For the singles, it means complete loneliness. Sorry for the bad news!
Are you Prepared to Experience the Best Love Life? Yeah, you heard that right! Talk to an Astrologer!
---
8 of Cups Money & Career Upright
After a terrible 8 of Cups Love, welcome to another scary ride. But let's believe, scary for the one who has no spirit, we must fight and turn the tables, HAINA (isn't it)? 8 of Cups Tarot indicates that you may walk out from a job that you no longer find fulfilling in a Career Context. You may be thinking about taking a 180-degree career change. More power to you! Money-wise, it may indicate some severe financial loss but look to supporting cards as well for confirmation.
Worried about your Money & Career? Find The Best Suitable Job For You, Consult a Money & Career Expert Astrologer Now
---
8 of Cups Health Upright
In terms of health, you may be drowning in the consumption of bad stuff that is affecting your health terribly. Don't wait for a wake-up call. With 8 of Cups Tarot try having a positive approach and change your lifestyle in order to ultra-fit folk. Before you do these things, all the very best pals!
Everything will be found in the Horoscope Report, Click Here…
---
8 of Cups Love Reversed
In 8 of Cups Love, you may be doing a great job in your relationship with the outside world, but the story may differ inside. It may also reflect that you're just afraid of losing your partner. Your self-esteem may start turning low. On the other hand, you may run from a serious relationship as you don't wanna be in a committed relationship. But hey, there is some good news. Once you emerge from all these negative qualities, no one can stop you.
---
8 of Cups Money & Career Reversed
In a career context, the 8 of Cups Reversed indicates that your professional life may have become stagnant and unfulfilled, but you are sticking to it because you are scared to challenge. You haven't even tried changing or exploring options available for you. Hey, lonely duck, why so frightened? If your career is unfulfilled for you, the only person who can change that is you; even if that means making a complete change, just go for it. No one is gonna do it, and you ought to lead.
---
8 of Cups Health Reversed
8 of Cups Health, you know that things are not good, but still, you are not changing it And not even trying. Stand up and evaluate what is having an impact on your health and what you can do to improve your health. Time to vanish all the uninvited evils from life!
---
8 of Cups Feelings
If you're asking about your lover's feelings about you, the 8 of Cups Feelings will warn you that they've already considered leaving the relationship. Cheers! However, 8 of Cups Feelings is something that could bother you right now. 8 of Cups Feelings is also a sign that you will soon be moving past this relationship. You will come to realize that your lover is not in a position to give you what you want.
Save Your Love From All The Doshas through Experts Guide. Talk to an Astrologer Now!
---
Conclusion
The highlight of this whole article is, a person is walking away from circumstances. But this does not always mean bad too. It seems an individual is tired of those cups and setting a specific target for the future. A bigger and better adventure to explore! So, all the folks reading this 8 of Cups Tarot Guide, don't hesitate in working on self-improvement, self-understanding, and growth. It will be beneficial for you only.
For Astrological Solution to any Problem, Talk to our Expert Astrologer Now, First Call is Free…
---
---