Five of Wands Meaning, Upright & Reversed – Guide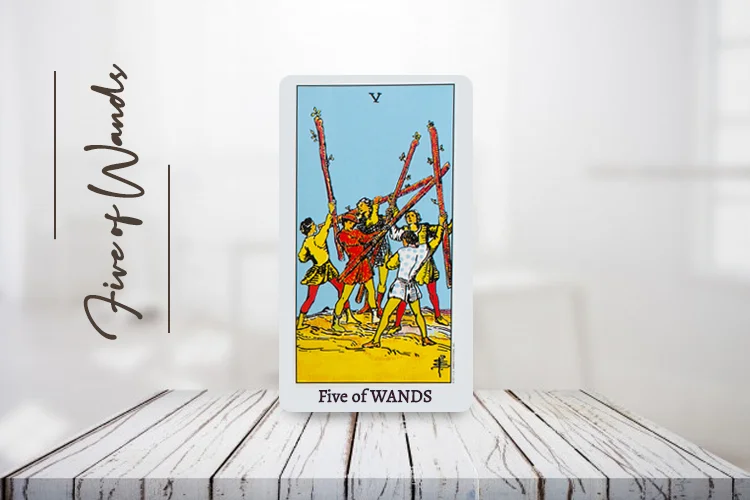 ---
Five of Wands Meaning
An individual depicted by the Five of Wands Tarot is a lost soul searching for self and purpose in life. In fact, they also have poor self-esteem and do not feel that they are capable of achieving their goals. Despite this, the person of Five of Wands Tarot remains compassionate and empathetic. Here's the deal, once they have acknowledged the validity of their needs, they will develop self-esteem and be truly happy. There is no need to be deadlocked.
Element: Fire
Astrological Sign: Leo
Planet: Saturn
Date: 22nd July to 1st August
Five of Wands Upright: Disagreements, competition, rivalry, ego clashes, challenges
Five of Wands Reversed: Harmony, teamwork, solutions, compromise
Ask an Expert Astrologer for all the Answers.
---
Five of Wands Upright
Hey happy ducks, if you got Five of Wands Upright, then prepare yourself for a frictional ride. We are not scaring anyone, though. This card means that you are in the middle of a war, conflict, and rivalry with others. You ought to take a chill pill instead of messing up your life. Rather than being able to work towards a common goal, you're constantly jumping in opposite directions.
Here's the brighter side, this sort of conflict and discussion can be very productive, like group brainstorming and problem-solving. Welcome to Positive thinking!
Everything will be found in the Horoscope Report, Click Here…
---
Five of Wands Reversed
The Reversed Five of Wands Tarot means that any challenges you've gone through, internal or otherwise, will soon be resolved. Yeah! Interestingly, it predicts conflicts and wars that will quickly come to an end if you compromise. Basically, the Five of Wands Reversed after a battle is like a sigh of relief.
You're no longer up to too much rivalry out there #TimeForPeace. On a personal level, you have worked through your anger and hostility, and you feel more comfortable in your relationships. Talking about 5 of wands as feelings, when the object of your affection is unaware of their feelings, this card commonly appears in love Tarot readings.
From above, it is clear that disagreements and discord rule when the card is in the mix. But the result doesn't have to be all negative at all. Hope you understood Five of Wands Meaning. Many conflicts may come your way, but will you have what it takes to get the wave to the finish line?
Going Through Tough Times? Consult an Astrologer Today!
---
---