Queen of Wands Meaning, Upright & Reversed – Complete Guide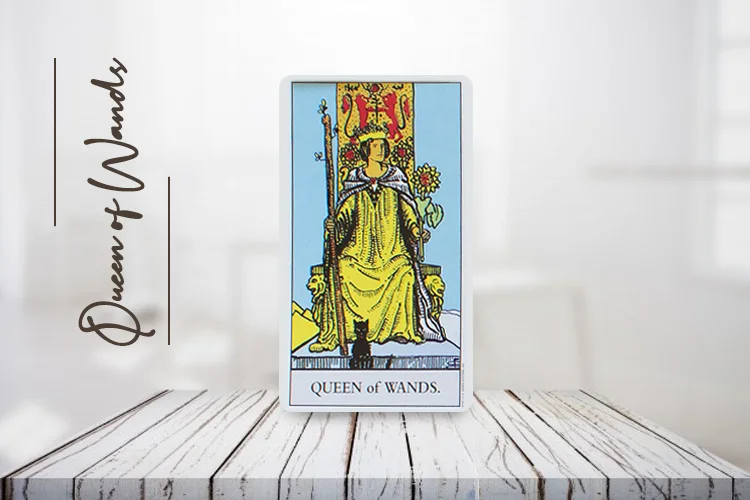 ---
Queen of Wands Meaning
In a reading, the Queen of Wands Tarot represents an enthusiastic and commanding approach to life management. The Queen of Wands Tarot is full of energy and solves any issue with gusto. She describes what all of us strive to be: a powerful woman who is passionate and sincere.
When the Queen of Wands Tarot appears in a reading, she represents you or another significant female figure in your life who is caring, consistent, and not afraid to give it her all. Is there something in your life that you need to put more work into?
Now is the time to devote your full attention to these activities. Wanna know the bucket list? Well, we will not say all in this sentence; you ought to read about the Queen of Wands Meaning further.
Element: Fire
Astrological Sign: Aries
Planet: Mars
Date: 11th March to 10th April
Queen of Wands Upright: Wholehearted, attractive, fiery passion, attractive
Queen of Wands Reversed: Revenge, insecurity, selfishness, jealous, hot-tempered
Ask an Expert Astrologer for all the Answers.
---
Queen of Wands Upright
The Queen of Wands Tarot reminds you of your optimism, bravery, and determination. You came here to see your artistic dreams and life intent through, even in the face of adversity and struggle. You are highly self-actualized and self-aware, and you understand how to channel your strengths and weaknesses better and achieve your objectives.
You are upbeat and full of fresh ideas to share with others. You know what you want and how to get it, and you're an expert at working with others to achieve your objectives. Maintain a strong determination and concentrate on your goals while being positive and optimistic with those around you.
Finally, theQueen of Wands Tarot invites you to become familiar with your shadow self, the lesser-known and the often darker side of who you really are. This does not have to be a negative part of yourself, but it may be something that most people are unaware of… yet!
Everything will be found in the Horoscope Report, Click Here…
---
Queen of Wands Reversed
The Queen of Wands Reversed indicates that you have gained self-esteem and trust. Also, you have a profound understanding of yourself and your personal reality and belief systems. You know what you believe in and are not easily fooled by the views of others.
You have often described success for yourself, even though it varies from the definitions of others. The Queen of Wands Reversed may also mean that you are more introverted than normal. Instead of being the centre of attention, you tend to stand on the sidelines and observe what is going on.
That's fine; respect your needs and emotions, don't force yourself to be extroverted and "out there" when you don't want to be. Remember, discover who you are and be bold in expressing yourself in everything you do, even though it is different from what others expect of you.
---
Queen of Wands Love
The Queen of Wands Love & Feelings may indicate that you or your partner is preoccupied with their job, or even their friends, rather than their relationship. They may not wish to be this way, but they may be irresponsible about their emotions and deeds.
Wait, wait, we don't mean to say Queen of Wands Love signifies living a life like a robot. You ought to breathe, feel & live a life like a human. Believe it or not, this is a powerful package card. Hope you guys now know what the Queen of Wands means. Just stay happy and healthy!
For Astrological Solution to any Problem, Talk to our Expert Astrologer Now, First Call is Free…
---
---