Aries Compatibility
Detailed Insights From The World Of Aries
'Love is a sweet dream, and marriage is the alarm clock', isn't it Aries? Well, agreeing with the facts, Astro-experts says Aries couples do score more in terms of their love compatibility. Natives of Aries are committed to their love relationship and often look after their spouse. Ticking all the boxes right, Aries enjoys an intimate relationship with their partner behind the doors as well. We bet you are on your toes to know how Aries are compatible with other signs. If yaas, BRT and check out Aries compatibility with other signs to have insights into who is the strong anchor for hyper-focused Aries.
Aries Compatibility With Other Signs
When it comes to having a successful love relationship with Aries partner, it is prominent to check Aries compatibility and find out the zodiac signs that are naturally compatible with Aries. So be on your guard Aries to know the signs with whom it is easy for you to see eye to eye on things, less afraid to voice your differences, work things out swiftly, and have everything hunky-dory at personal and professional life.
Aries Compatibility with Fire Signs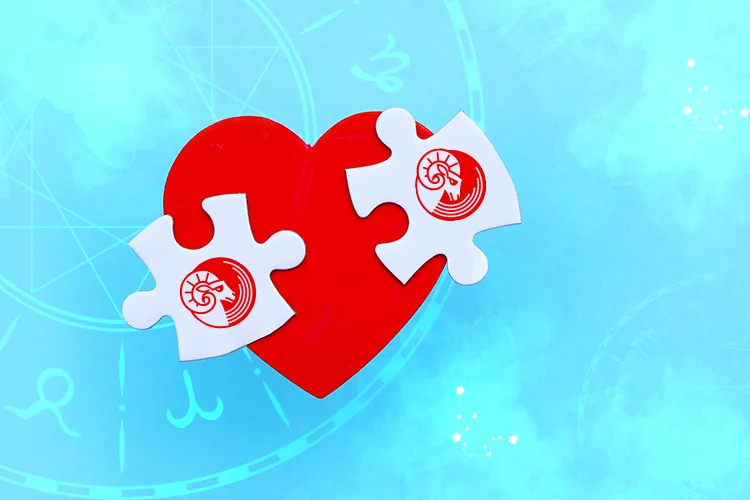 Aries and Aries compatibility
The head of zodiac signs, Aries, represents the fire element. Two Aries together and you know what happens when fire catches fire, yaas you explode. BOOOM! It's unstoppable on the minute you miss to see eye-to-eye on anything. Little conflicts and missings hugs will let you burn yourself in the flame of love. All to plot and the battle of your ideal begins! Aries marriage compatibility meter suggests that the married couple will continue to face the heat of the fire. The combo of planets Mars may create unnecessary hurdles in your path. Read more about Aries and Aries Compatibility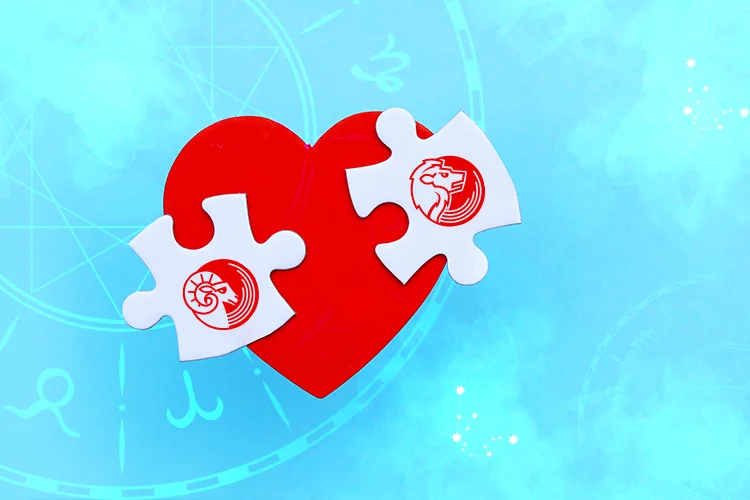 Aries and Leo compatibility
Too hot! Fiery and star-powered! Is what attention-seeking signs Aries and Leo compatibility would be! You two are burning up together. Sensitive Lions may get jealous of Ram's rude behaviour, but it won't stop them to strengthen their relations. Leo is ruled by the planet Sun and Aries is ruled by Mars, the marrying couple may find a long term relationship but needs to take care of individual's likes and dislikes. Don't forget potential struggles over who's the real boss. Aries and Leo together enhance the love percentage in the compatibility meter. Read more about Aries and Leo Compatibility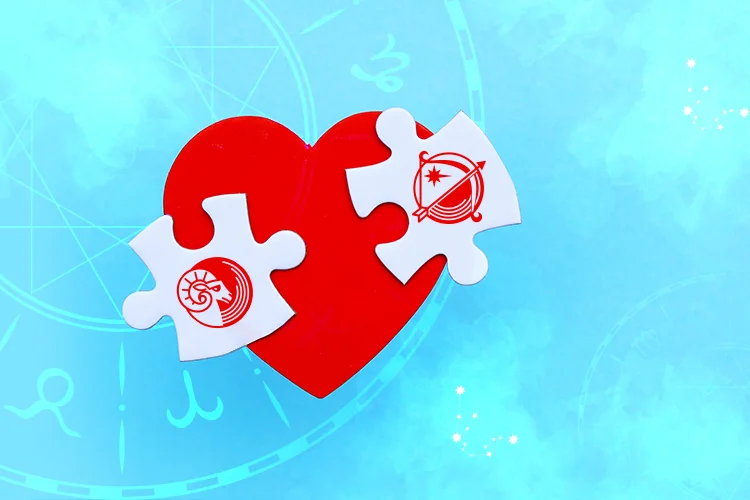 Aries compatibility with Safittarius
Great team! Aries and Sagittarius together define the line 'Marriages are made in heaven' as the partners are destined to stay connected. XOXOXOX! Bloke – it's fiery and liberating when these free spirits are together in love and relationship. The planetary combination of Mars and Jupiter signifies fewer chances of conflicts and misunderstandings in regards to the marriage relationship. The natives can expect support from the spouse in challenging times. Read more about Aries and Sagittarius Compatibility
Aries Compatibility with Earth Signs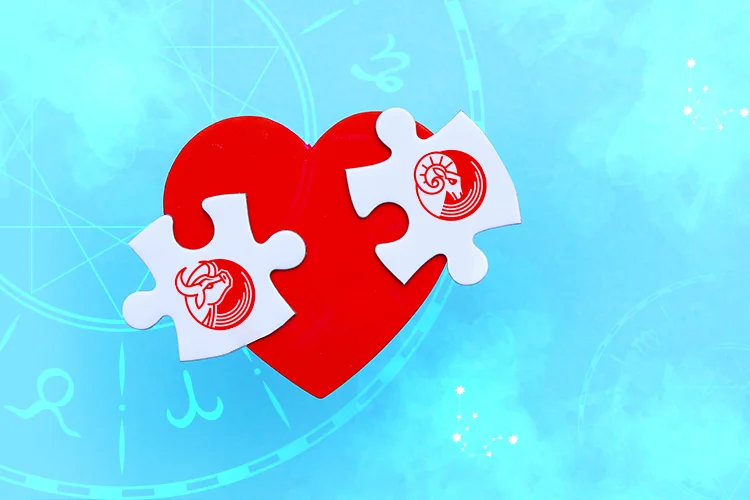 Aries and Taurus Compatibility
Aries and Taurus couples, the combination of Fire and Earth, can strike a good balance. BTW it's dynamic, but at the same time, it's grounding. Hang on MMW, in candy times, it's really swift, but when slump, it's terrible! So the partners are advised to look after each other as the elements may disturb their love relationship. Here, Mars and Venus will help the couple to have a happy married life. Mars is very friendly with Venus, and as a result, the couple may enjoy their love relationship. Read more about Aries and Taurus Compatibility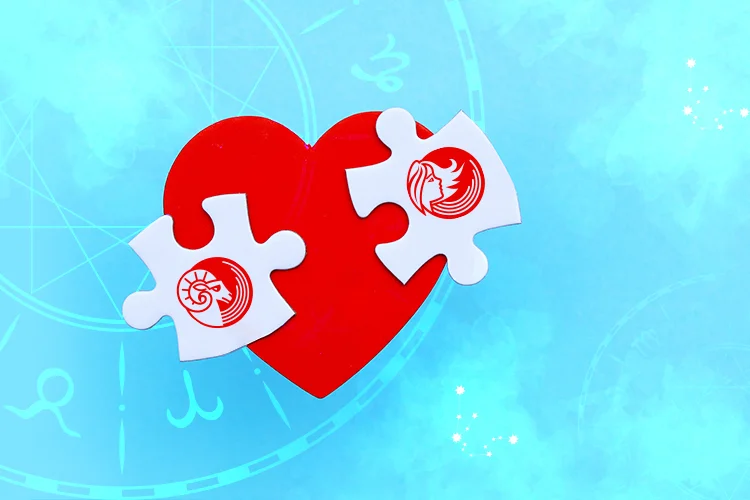 Aries and Virgo compatibility
Pairing with a Virgin is not all always a fun-filled ride! It's definitely not easy peasy, but it's healing. The natives of Aries and Virgo are generally open-minded, and they do have a stable relationship. The couples are likely to share a common goal, which will further help them to make a successful pair and can have a high compatibility score. The duo governed by Mars and Mercury will inspire a peaceful marriage life. Read more about Aries and Virgo Compatibility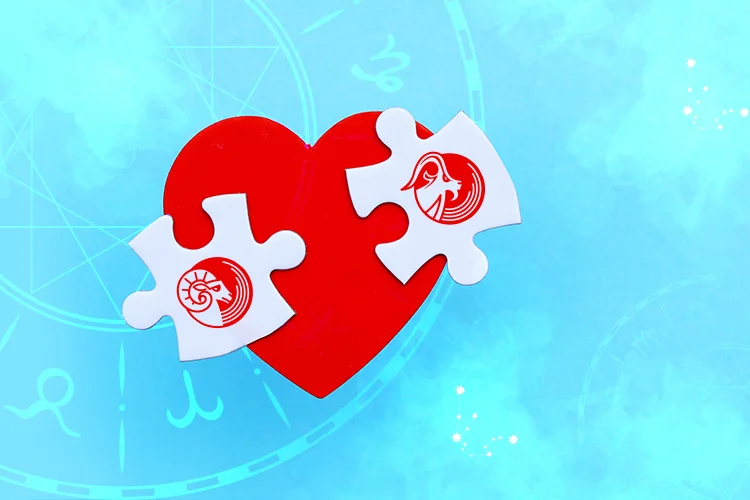 Aries and Capricorn Compatibility
At first glance, Aries-Capricorn, not the perfect pair you would have thought of. Bugger all when you check commonalities between Aries and Capricorn couples. In a funk, the natives of Aries are not compatible with Capricorns, they lack each other's support. Both of them are likely to have different opinions and personalities, which may give rise to internal conflicts. The combination of Mars and Saturn may have unfavourable outcomes in regards to intimacy. Read more about Aries and Capricorn Compatibility
Aries Compatibility with Air Signs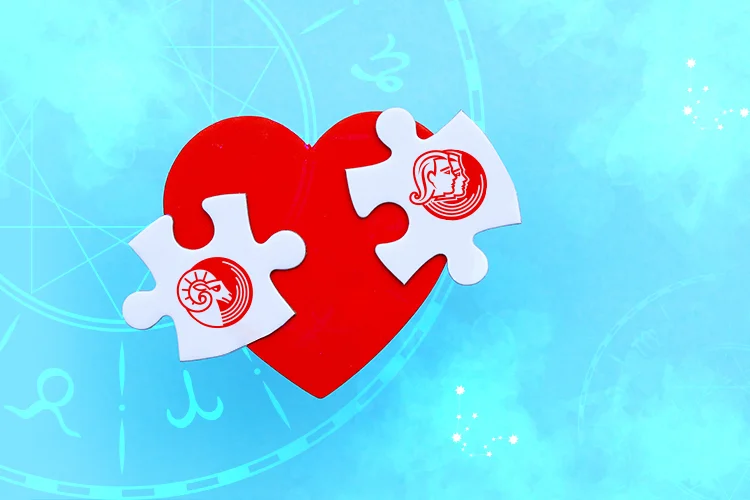 Aries and Gemini compatibility
Aries and Gemini Compatibility – the duo of quick-blooded and quick-minded! wOOt!!! A fun night on the town! Aries with Gemini not only earn marks in friends compatibility but can also match the likes of their true love. The marriage journey of Aries and Gemini is flawless and smooth as hell. FYI, a positive response from the partner can be expected in this love and relationship. The union of Aries and Gemini will hardly face any obstacles in the love relationship. The ruling planets like Mars and Mercury will help the partners to accomplish a 'couple goal'. All in all, great company! Read more about Aries and Gemini Compatibility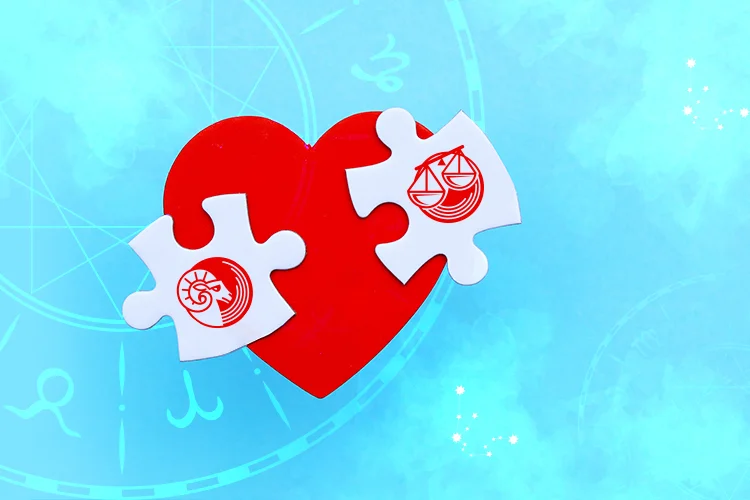 Aries and Libra compatibility
The natives of Aries and Libra are blessed by the planet of love, Venus. Yaas! Under the supervision of Venus, the Ram will be able to try new things, which may help them to win the heart of the Scales. Cheers to passionate couples! Both the natives will have similarities and mutual understanding in a long-lasting relationship. Aries natives will be aware of Libran's choices, and thus for both of them, it would be easier to achieve the desired goals, proper jammy. This combination works well with marriage relationships, but the two dreamers of the zodiac circle face feisty challenges too. Gobsmacked! Aries-Libra couple tend to have spontaneous combustion if they have to deal with odds. Read more about Aries and Libra Compatibility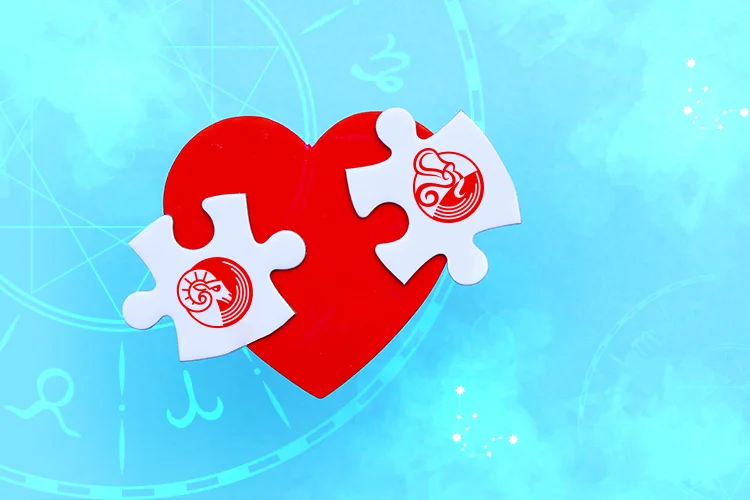 Aries and Aquarius compatibility
The couple of Aries and Aquarius are keen to try new things as a couple, which is fine. TMI bound to come from these two opinionated signs of the zodiac circle. Some of them may have similar marriage goals and are likely to maintain a healthy relationship. As per the combination of Mars and Saturn, the couple will continue to share happiness in good times and bad times as well. Complementary and exciting relationships, since the need for worldly adventure, is a common point. TBH, don't miss to have quality time with your partner. Read more about Aries and Aquarius Compatibility
Aries Compatibility with Water Signs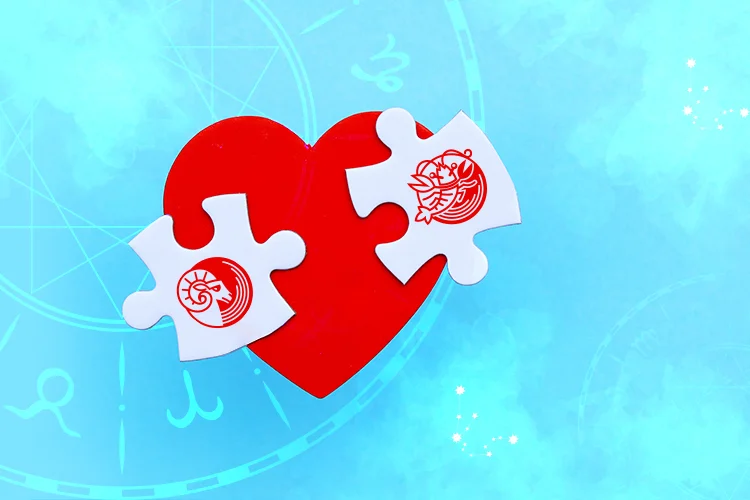 Aries and Cancer Compatibility
Aries with Cancer is similar to throwing water on the fire. Total Mismatch! The Elements of fire and water have opposite reactions! Two moody signs are great at keeping real but also overbearing at times. So it's complicated when you check the status of Aries and Cancer compatibility. Of course, Mars is the ruler of Aries and Moon governs Cancer but still, you need to be diligent students to get the tuning on track with your partner. The combination of Mars and Moon does not always spoil the marriage, sometimes it may give a boon of balanced marriage. Read more about Aries and Cancer Compatibility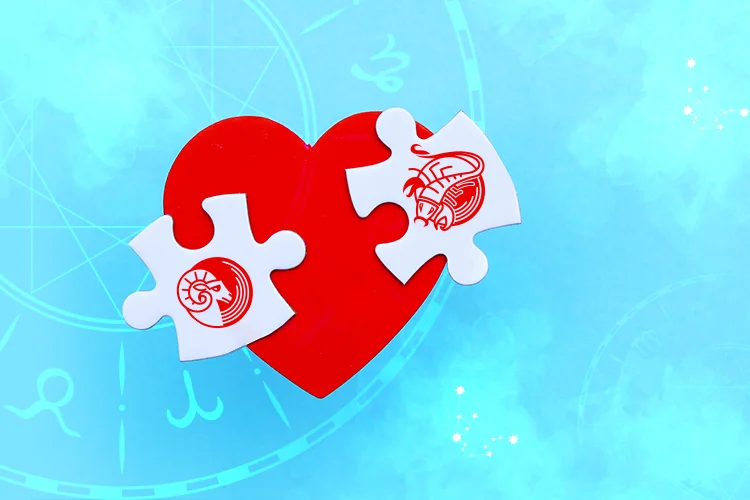 Aries and Scorpio compatibility
Aries and Scorpio watch out! You may find your name missing from the list of perfect pairs. Natives of Aries and Scorpio together have a common goal, but you will lack each other support. The fact is both the signs are ruled by the planet Mars, which means natives will have the same aura and passion. Albeit, you will have to work more closely in order to get the desired goal or happy married life. Read more about Aries and Scorpio Compatibility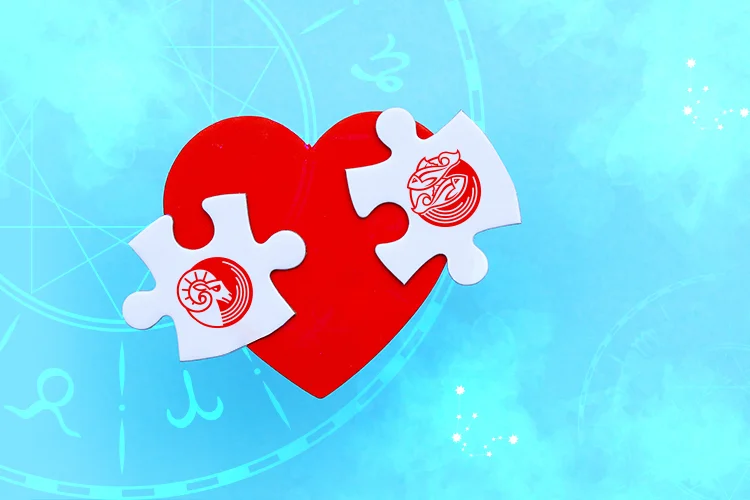 Aries and Pisces Compatibility
Neither too hot like lava nor so cold as ice, two head-cases, active and passive natures… It's all okay as Aries will have a balanced match with Pisces. Marrying couples of Aries and Pisces will share mutual relations because of the beneficiary planet Jupiter. The partners may take time to understand each other but will slowly boost their love relationship by showing more respect and appreciation. It can be said that trust and faith are hidden features for Pisces and Aries to score more on compatibility meters. Read more about Aries and Pisces Compatibility
Most Compatible Signs for Aries Zodiac Sign
Aries best compatibility: Gemini, Leo, Sagittarius, and Aquarius
Aries male and female, both have an ability to climb a newer height in regards to the love relationship. As Mars is the ruler of Aries, natives may seem selfish. Albeit, the couple will have promising marriage goals and are more likely to achieve it. The Aries man compatibility with its lady love is a promising fun ride. Aries man will have the support of their better halves in the tough times too. While Aries woman compatibility says, Aries woman is the ruler of husband-wife relationships. The man will need a special effort to win the heart of Aries woman.
Least Compatible Signs for Aries Zodiac Signs
Aries Least Compatibility: Cancer, Scorpio
If we talk about the worst compatibility for Aries Man, they have an unfriendly nature with the natives of Cancer and struggles in dealing with them as the Cancerians are too strong. The personality or behaviour of any cancer's individual would make Aries man feel trapped. Moreover, the Aries men will face difficulties in tuning with Scorpio natives too. When turning the tables, the same thing goes with the Aries Woman Compatibility, the ruling planet, Mars does not allow the Aries woman to get more marks on compatibility meter with natives of Scorpio and Cancer. Just because of its traits, Scorpio and Cancer qualify as a worst compatible partner for Aries guys.
Aries Friendship Compatibility: Team Up With Your Real Buddies
Being an Aries makes you a little bit busy as Aries individuals are likely to find more friends. Aries can find their mirror image by sharing a similar view with the individuals of Aquarius, Pisces, and Leo. Also, Aries can have a strong bonding with the person of similar Ram, Aries but for that, you need to walk on the cusp of the hill. Partying hard is always good until you get bored with your friends, especially the one who is an individual of Cancer, Taurus, or Libra.
Aries Love Compatibility: Walk Hand In Hand With Your Soulmate
Hey, Aries, what's your score on the compatibility meter? More or less, upwards or downwards you go, but make sure you get your tuning well with your loved ones. True, astrology has the upper hand to find your match-making partner but to put a smile on your partner's face is in your hands. Wooah! Aries can expect smooth-sailing love compatibility from Gemini, Sagittarius, or Aquarius. OTOH Cancer, Capricorn, and Scorpio will score low in terms of Compatibility with Aries sun sign.
Aries Marriage Compatibility: Pick Out The Compatible Ones
Aries, do not give up on your search! Instead, check the Aries compatibility to find your desired life partner. Sitting at the top of the zodiac table, Aries will have both the sides of the coin, positive and negative with other signs. The good thing is Aries will be honest with their spouse. And the Bad? Impulsive behaviour with your life long partner! Aries high marriage compatibility often goes with Leo, Pisces, Virgo and Sagittarius. Whereas, Aries unmatched partners can be from Cancer, Scorpio, or Libra.
| | | | | |
| --- | --- | --- | --- | --- |
| Aries Vs Other signs | Love & Relationship | Marriage | Sexual | overall |
| Aries Vs Aries | High | High | High | High |
| Aries Vs Taurus | Average | Average | Average | Average |
| Aries Vs Gemini | Average | Average | Average | Average |
| Aries Vs Cancer | Average | Average | Average | Average |
| Aries Vs Leo | High | High | High | High |
| Aries Vs Virgo | Low | Average | Average | Average |
| Aries Vs Libra | Average | Average | High | Average |
| Aries Vs Scorpio | Average | Average | Average | Average |
| Aries Vs Sagittarius | High | High | High | High |
| Aries Vs Capricorn | Average | High | Average | Average |
| Aries Vs Aquarius | High | High | Average | High |
| Aries Vs Pisces | Low | Average | Average | Average |
After having a glance on Aries compatibility, we guess now it's easy for my Aries friends to understand how Aries compatibility works with other signs and who are the best and worst compatibility signs for Aries. So guys, take notice of the commonalities and challenges you are likely to have from the potential match-making partners and have hanky panky relationship status. Not only for Aries but for every zodiac sign compatibility check before committing your dating partner. Best of luck to all Aries men and women, You win the love game too!!!